New wall top railings above newly built garage extension have been well received by our client. The job was a little bit unusual due to varying angles, inclines and wall steps out to take into consideration when designing and building.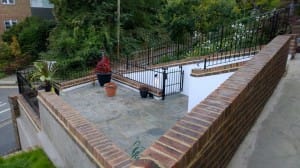 "Rupert and team created railings to go on top of a new garage which had a patio on top. All the angles were really awkward so it had to be custom made. The whole process was seamless. Measured, made and then installed without any adjustments needed. The end result looks fantastic and has transformed the look of the whole front of the house. We used over 10 contractors in the overall construction and RS Engineering was by far the most professional with the highest attention to detail. A pleasure to work with."
Other wall top and balcony railing examples:
The post Wall top railings in Guildford appeared first on RS Engineering.